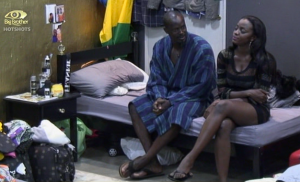 We told you that the way things are going, Uganda's representative Stella "Ellah" Nantumbwe will go far in the Big Brother Hotshots game. There is even a chance that she could win the $300,000 (Shs808m) prize money.
Like we noted on this very website two weeks ago, the East African factor is one of the major reasons Ellah will go far. All the Kenyans were evicted and the strong Tanzanian was also evicted two weeks ago. The East African factor came into play, saving Ellah possible eviction on Sunday night as Kenya and Tanzania joined Uganda in voting for her. We also had a Ghanaian vote, meaning Ellah has broken into the West African stronghold.

The bad news for East Africa is that Rwanda's Frankie was evicted, following fellow countryman Arthur who was also evicted last week, but on the flipside, it is good news for Uganda because it allows us solidify the East African block to help Ellah win the money. Rwanda has previously voted for Ellah and without a housemate of their own, she is as good as assured of a vote from the neighbours.
Frankie 33 who is a divorced father got along well with Ellah and he admitted that she caught his eye during his post eviction interview with IK.
Namibia's Permithias was also evicted on Sunday.
How Africa voted
Ellah: Ghana, Kenya, Tanzania, Uganda
Butterphly: Malawi, Zimbabwe
Frankie: Rwanda
Nhlanhla: Botswana, South Africa
Permithias: Namibia
Trezagah: Mozambique, Nigeria, Rest of Africa, Zambia