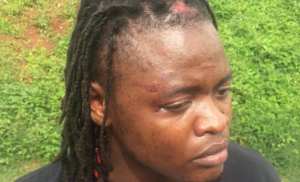 A family meeting should be called before something really bad happens. Singer Pallaso is at loggerheads with his blood brothers Jose Chameleone and Weasel. These brothers are known to have on and off friendships and battles. The freshest feud started yesterday with a video of Pallaso beating an unidentified fellow at the Neverland home of Goodlyfe in Makindye circulating on social media. Pallaso says he acted in self-defence and the video was edited and spread by Goodlyfe members leaving out the part when the guy attacked him with a stick that had nails and hit him on the head. Radio and Weasel are currently in South Africa but Weasel posted wondering how Pallaso could attack a pregnant woman! The pregnant woman in question is Weasel's fiancée Samira who was recording the video. Pallaso says he cannot lay his hands on a woman and only beat the guy who attacked him in self-defence. But he is angrier with big brother Jose Chameleone for posting the video that calls for a violent free society. He says Chameleone has no moral authority to speak about violence when his name is link to the murder of a one Robert Karamagi who was torched at his Sseguku house two years ago.
Below is Pallaso's Facebook Post
OKAY i understand there is a video uploaded of me beating up some body an act that is not acceptable but if some body like chameleone still understood both sides of the story & instead of him as a BIG BROTHER to making efforts to really understand what went wrong with his young brothers to the extent the one of them coulda got killed but instead also shares the video to end my career…that shows how intimidated all this old artists are because of my arrival !!
But Chameleone chameleone chameleone !!! I know you are so desperate to revenge about the whole wizkid situation but my brother this is not the way to go !!! You have fought your battles I fought mine !!! Did you really post on face book asking why the brutality towards one another ???? Chameleone really ??? youu?? !! You beat me & broke my teeth you are the most violent & brutal artist the whole industry knows you beat DJ roja just recently !!
"YOU EVEN KILLED ROBERT KARAMAJI" & Still got a break but you dont think any human deserves a chance but your selfish self thats why your whole family has abandoned you !!! Im your brother …im uncle Abba…im family & ya shoulda stood by me but nah !! Folks I beat up a guy that tried to beat me to death…& the world is trying to nail me on the cross !! This guy is involved in the murder of a fellow Ugandan citizen…a brother…a son…a friend & some body that their family will never get to see again & he thinks I should not get a break but he was given one !!
CHAMELEONE YOU & YOUR GOONS BURNT & KILLED ROBERT KARAMAJI & I WAS THEIR BY your side through the whole situation but you think now is your turn to drown me oswadde !!! Ladies & gentle If every body wants to use this chance to clean the industry !!! lets start with this Chamelone "KARAMAJI MURDERER" Cos i dont think any violent action has still reached his record of violence !!! ####Justice4KARAMAJI
Chameleone has no case to answer 
It should be noted that Chameleone was cleared of any wrong doing by Director of Public Prosecutions last year. DPP  spokesperson, Ms Jane Kajugo said that all the evidence gathered for the case was contradicting and inconsistent and police was directed to close the file.