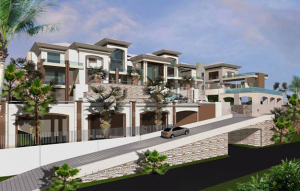 Sudhir Ruparelia is the richest man in East Africa and he is putting final touches to his residence, that will be the best in the region and many parts of Europe and the US upon completion.
The tycoon, valued at $1.1bn by Forbes razed his Kololo house to the ground and decided to rebuild a new one of palatial proportions, fitting of his status.
Symbion, the architects who handed the design describe it as such.  "It is a modern residential development showing a series of linked spaces arranged to recreate the rich Kololo landscape. Seen as a series of volumes this house oozes appeal, status and a vibrant interplay of forms. Designed to engage to its environment yet stand out like a sculpture with in it, this residence was deigned to have it all, great views, an infinity pool and health facilities."
Initial plans for the house started in 2010 and it will be ready for occupancy in April next year.
Sudhir shared a few images of the entertainment area of the house, the in-house bar area and lounge. Take a look.