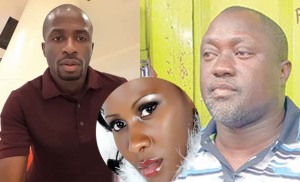 The Desire Luzinda saga is the stuff Hollywood soap operas are made of, with riveting twists and turns every minute.
Now her estranged Nigerian lover Franklin Emoubor Ebenhron reveals that although he mentioned a long list of men Desire slept with when he leaked her nude pictures, the real reason he lost his cool and decided to call it quits on the relationship was because the Equation singer was two timing him with Sports Club Villa president Ben Misagga.
"Even before I left Uganda we were not talking because I found out she was sleeping with many people, with Ben Misagga, with some guy called Hajji, with so many people," Franklin said.
"What really got me pissed was the Ben Misagga issue. I found messages of explicit conversations with Ben Misagga in her phone."
"Me and Misagga almost fought. We had a confrontation at their home in Wandegeya. I caught her entering the car with him and even Ben was surprised," Franklin says.
"I have SMS exchanges between me and Misagga in my phone."
Prior to this saga, Desire had been linked to several men, but not Misagga. However, a look at her Facebook feed shows that she posted about her love for Uganda Cranes and Sports Club Villa, where Misagga is president.

Franklin maintains that he gave her over Shs150m for her concert and another 10m was borrowed because there were still bills to foot. It was supposed to be paid from proceeds of ticket sales at the gate but Franklin says he was surprised that everyone walking into the venue already had a ticket.
"Desire said I shouldn't get angry but they didn't want the embarrassment of an empty venue so they had given out the tickets free of charge so Serena could be packed."
He says he is surprised that Desire is calling him a conman yet he was about to send her Shs5m to help with her current financial troubles.
Now Franklin has released the messages between Misagga and Desire, promising each other undying love.