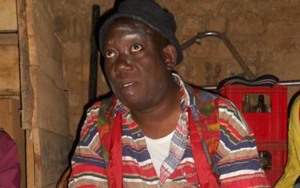 Comedian, singer and CBS presenter Kato Lubwama aka Bidugu is holding a show dubbed "A Night With Kato Lubwana" at his Royal Theatre in Old Kampala come December 13, to fundraise for a pending heart surgery. "I am asking all of you to come and attend the legendary night of Kato Lubwana," the funny man said. Entrance to the show will be $100 (Shs270,000) per head, but is for a good cause. The singer was last week diagnosed with Coronary artery disease, more specifically Triple Vessel Disease (TVD), with three arteries supplying blood to his heart narrowed. He needs a Coronary Heart Bypass operation that doctors advise should either be done in India or the US and is estimated to cost Shs40m. Kato Lubwama says he is diabetic and has high blood pressure, but he was unaware of a serious heart condition though he says he at times felt pain in the chest and sometimes difficulty in breathing, especially after rigorous work. The comedian fell ill on Tuesday last week and was admitted at Namirembe Hospital, but later referred to Mulago Heart Institute. He was discharged from Mulago yesterday, but he needs to attend surgery in the near future.
Medical explanation of Kato's condition
Coronary artery disease is the narrowing or blockage of the artery or arteries supplying blood to the heart muscle. This narrowing is caused by plaques, which are cholesterol deposits on the vessel wall, resulting in abnormal and gradual thickening of the lining of the heart arteries. The narrowing usually develops slowly over many years.
Causes
Patients who smoke, or have conditions such as diabetes mellitus, hypertension and high blood cholesterol or fat levels are prone to developing coronary artery disease. The heart has three main coronary arteries. Patients are said to have single, double, or triple-vessel disease, depending on the number of vessels that are narrowed. All three of Kato's vessels are narrowed. When the narrowing becomes critical, the patient can develop symptoms such as chest pain or shortness of breath. In medical terms, this is called angina. The cholesterol plaque causing the blockage can sometimes rupture suddenly, causing a blood clot to form. This blood clot will cut off blood supply and cause damage to the heart muscle. This is called myocardial infarction, commonly known as a "heart attack".