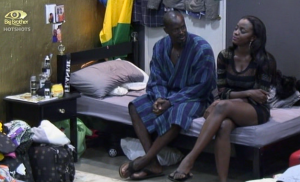 Last week was a special one for Uganda's remaining Big Brother Africa representative Stella "Ellah" Nantumbwe because it is the only week since the game began that she wasn't nominated.
Now she is counting on fellow Ugandans and Kenyans who don't have a housemate left to vote and keep her in the running for the $300,000 (Shs808m) jackpot.
Sunday night's nominations delivered some interesting results – Trezagah lead the nomination charge with 8, followed by Ellah with 6, Frankie with 5, Nhlanhla with 4 and Permithias with 3. Trezagah makes his second appearance on the nomination list, while this is Nhlanhla's third time in the firing line since launch. It's a case of new week, same old problems for Ellah and Permithias though, as they appear on the nominees' list yet again. Head of House Idris dropped a bombshell on Monday night after the Big Brother Hotshots Nomination Show when he mysteriously added Butterphly to the danger list for this week. The Zimbabwean, safe from nomination after being part of the winning Downtown Beats team in last week's Extravaganza Task, has no reason to believe she's in danger – Idris even played a makeshift game of tennis with her directly after naming her in his visit to the Diary Room! The addition of the Zimbabwean means that there are six housemates in danger of eviction this week.
How to vote:
There are several ways to vote for your favourite housemate each week: (we are hoping you are voting fellow Ugandan Ellah).
Get you phone, type the word Ellah and send t0 8884. You can also log on to www.bigbrotherafrica.com and cast your vote to keep the former Miss Uganda in the house.