On Saturday last week as the Cranes took on Ghana, fans watching from the stands could be forgiven if the Namboole pitch looked good from far. The truth is that it was far from good. William Kasoba sought management's explanation.
Two days to the Cranes last home tie in the 2018 World Cup qualifiers, against Ghana, Namboole stadium management rented out the facility to renowned city pastor Aloysius Bugingo to host his Independence night prayers. The activity left the pitch in a sorry state. On the match day, the playing surface was dominated by brown patches that angered not only fans but went a long way in frustrating play.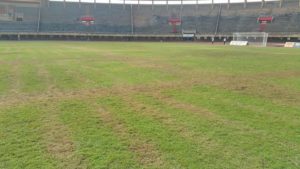 Cranes captain Denis Onyango had no kind words after the goalless draw as he said; "It was our chance to go to World Cup but the pitch didn't benefit us. It was a disgrace playing on such a pitch by the national team."




Matooke Republic sounded out Jamal Ssewanya, Managing Director of Namboole Stadium to explain how we got to this point.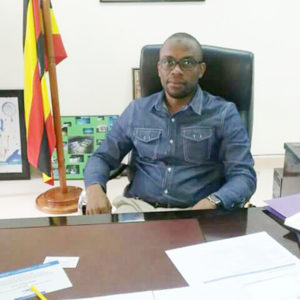 What are your thoughts about the state of the pitch during the Cranes game last weekend?
It was real bad and unfortunate. It was only grass that was not green but the surface was good. The challenge that caused this was that on the calendar we have the Cranes game was to be played on October 2 and the crusade on October 6. But the game was rescheduled to October 7. This was why everything happened that way.
How soon will it be fixed considering that more than two top flight teams use it?
It is a routine as management to renovate and fix where necessary every after any function.
Are there any limits to what a client can or cannot do at the stadium; for example why would a religious meeting be conducted on the pitch?
No limits at all. This a national stadium met for sports and non-sporting activities. Everyone is free to book for whatever purpose.
Are their priority clients when hiring the stadium?
Nooooo… it is all about scheduling events. You can also bring your wedding here.
How much do you charge Fufa to host their games at Namboole?
I cannot comment on that and if you want to know how much we charge for an event just come through when booking for your event.
Is there any arrangement that gives Fufa any authority over the use of the stadium?
Like I said it a national stadium, only the stadium management has the authority.
Do you share any revenue with Fufa for branding the stadium with its sponsors?
Not at all.
Parts of the stadium are in urgent need of repair. What is the plan in that regard?
We have always repaired and we are repairing them from the revenues we collect from events holders.




Comments
comments