The fourth edition of the 2017/18 FUFA Women Elite League kicks off this weekend on Saturday October 14 at different grounds. Sixteen teams are confirmed to participate in the new season; Uganda Martyrs, Olila Women, Ajax Queens, She Mak. ST, She Corporate, Eastern Heroes, Gafford Ladies, Wakiso Hills, Kawempe Muslim, UCU Lady Cardinals, Muteesa 1 Royal, Rines WFC, Western United, London Stallions and newly promoted Isra Academy WFC.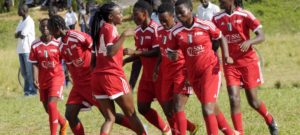 The teams are divided into two groups; Victoria and Elizabeth and the league will be played on a round robin basis where the top two teams in each group will feature in the playoffs that will ultimately determine the finalists.
Elizabeth Group: Uganda Martyrs, Wakiso Hills, She Mak, Isra Academy WFC, Kampala Queens, Eastern Heroes, Olila Women, UCU lady & Cardinals.




Victoria Group: Ajax queens, She Corporate, Gafford Ladies, Kawempe Muslim SS WFC, Muteesa I Royal University, Rines WFC, Western United and London Stallions.
Defending champions Kawempe Muslim WFC, who handed the UCU Lady Cardinals a 4-0 drubbing in last season's final to clinch the title, are poised to extend their dominance as the team has retained the title for three straight campaigns since its commencement in 2014. And with the team having retained its pillars from the previous season, including last term's top scorer Hasifa Nassuuna (26 goals ) and best goalkeeper Ruth Aturo, it would be foolhardy to bet against the women from Kawempe securing a fourth straight title.




Comments
comments