Following yesterday's meeting where over 240 Members of Parliament from the ruling NRM party agreed to draft a bill and table a motion to amend the constitution in a bid to lift the presidential age limit, former NRM member and Kampala Central MP Muhammad Nsereko has reffered to the meeting as 'malwa' chat.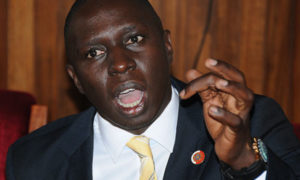 While appearing on NBS TV Morning Breeze show, Nsereko stated that he had no kind words to describe the meeting.




"It was a 'Malwa' resolution. Those members were having a 'Malwa' chat," Nsereko boldly stated
"They exactly knew what they were doing. It was well orchestrated. This was a vote of no confidence in Cabinet. It is very shameful but they have done it before," he added.
According to the "rebel" MP, all this is happening because President Yoweri Museveni has failed to lead a peaceful transition. He continued to call upon the concerned leaders to come out and save the country.
"If these MPs are misbehaving, religious and cultural leaders should come out. Don't bury your heads in the sand," he stretched.




Comments
comments