Kampala High Court yesterday dismissed request filed by Abey Mgugu to exhume the body of former Rich Gang CEO the late Ivan Semwanga to remove the cash that was buried in his grave. In the court ruling read by Justice Margret Oguli, she stated the two petitioned parties; A-plus funeral management and Bank of Uganda have no case to answer in line with the splashed cash.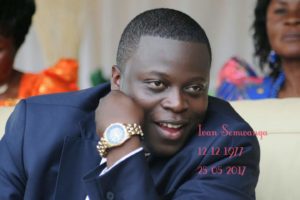 According to Oguli, A-plus funeral management owed no duty to Mgugu since the contract that was signed between them and Semwaga's family did not include the supervision and enforcement of respect of currency notes.




Similarly justice Oguli pardoned Bank of Uganda on the claimed negligence as filed by Mgugu, she revealed that its BOU's statutory duty to protect currency notes as per the Bank of Uganda Act but it gives no duty to enforce respect of the Ugandan currency and those from other jurisdictions such as the US dollar and the South African Rand that Mgugu claimed were also thrown in Semwanga's grave.
After the burial of Don Ivan, Mgugu petitioned the High Court accusing BOU and A -Plus Funeral Management company of merely looking on as the youths affiliated to the Rich Gang club threw money in Semwanga's grave on May 30 this year at Semwanga's ancestral home in Kayunga District.




Comments
comments