Following president Museveni's week long appearance on radio talk shows explaining the government's stand on the controversial Constitutional Land Amendment Bill 2017 across the country, minister for Lands, Housing and Urban Development Chris Baryomunsi has heaped praise on him for the committed service he has done to hold land campaign shows.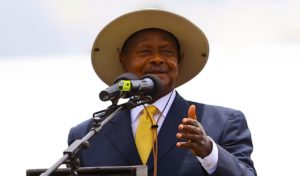 According to Baryomunsi presidents with a character of Museveni are hard to find and he deserves the praise.




"Museveni's land campaign shows that the president is a down to earth leader who likes engaging with people," Baryomunsi stated.
The minister further explained the most people had not understood government's motive.
"What we found on ground is that people had been poisoned and misled that this law is meant to take their land. Article 26 says government is empowered to compulsorily acquire your land but it should first compensate you," he explained.




Comments
comments