Government has issued a 'red warning' for the people staying in mountainous areas as fears of more landslides loom. In a statement issued by the Office of the Prime Minister, Martin Owor the Commissioner for Disaster Management, says that the second season of rainfall is above normal and will be heavy.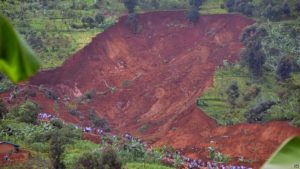 According to Owor, the rains will continue to December with likelihood of causing massive floods, and landslides in mountainous areas.
"Those whose homes are on steep slopes please shift to safer homes of relatives, friends, schools, churches and mosques," Owor said.
Mount Elgon region is prone to landslides with natural disasters almost every year killing people and displacing others in the districts of Bududa, Sironko, Mbale, Manafwa, and Bulambuli among others. In Sironko district, at least seven people are believed to have been buried by landslides 12 days ago. The search for the bodies continues.
Owor says people in Sebei Sub region districts of Kapchorwa, Bukwo, and Kween have also been asked to move since their areas are flood plains.
He says government does not expect people to shift with their animals and advises that six hours after it has rained, they can always go back to their original places to check on their livelihoods since the ground will have settled.
He notes that once landslides have hit, it is easy to replace animals but not human beings hence noting that government is only interested in securing lives of people.
Comments
comments