Two Record TV journalists were among those honoured during this year's Gender Media Awards. The awards which spread across nine categories recognized individual journalists and media houses that have demonstrated gender awareness and sensitivity in their work as journalists.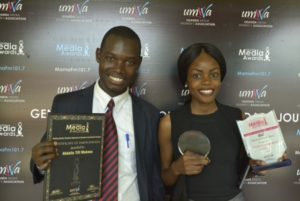 Among the two who were recognized were Justin Nabunya, who won the Best Television Feature Story and First Runner Up of Television News story. On the other hand, Abdalla Tiff Mukasawas awarded with a Certificate for the Best News Feature.
The two received trophies, MOVIT gift hampers and certificates of recognition.
The Minister of Information and ICT Frank Tumwebaze, who represented the Speaker of Parliament Rt. Hon. Rebecca Kadaga urged media practitioners to believe in engagement and fair rules of play in the media.




"I believe in engagement and fair rules of play in the media. Let's all focus on this", he said.
Speaking at the ceremony, the Executive Director of Uganda Media Women's Association (UMWA) Margaret Masagazisays the awards seek to recognize efforts of journalists and media houses which have demonstrated gender awareness while producing their stories.
"We think that we shall see stories that are balanced, stories on women and men, better reporting about women in a positive manner like political economy apart from rape among others", she noted.
The story that gave Justin the best News Feature of the year trophy ran with a headline, "Tobacco Control in Uganda". While the best Television story ran with a title," David Muhoozi Now Chief of Defense Forces in Uganda."
"I am honored to win these awards and I feel someone outside there appreciates our work", Nabunya said. "I feel motivated and inspired than ever before."
Abdalla Tiff's story ran with a headline, "My Step Dad", a story that has a young boy narrating his ordeal about the conduct of his Step dad.
"This is a great milestone for the entire Newsroom of Record TV and it's a great manifestation of the dedication and commitment of the entire team. I attribute this to the spirit of togetherness which has started to yield as a symbol of success. On behalf of the entire Newsroom and Record TV family, I want to thank the organizers for such a recognition of what we do as a team," he remarked.
Abdalla Tiff is a seasonal journalist who has in the past won a number of national Media Awards and Grantsfrom African Centre of Media Excellence (ACME) and TUMAINI Awards which was a consortium of seven international organizations including UNICEF, World Vision, Child Fund, Compassion etc. in the Best Broadcast Media category.
Record TV has been awarded with various awards ranging from the Radio and TV Academy Awards, ACME Awards, TUMAINI, among others basing on their outstanding performance.




Comments
comments