Paul Ekudu and Candy Mpanga outlasted all the rest to emerge winners of the Johnnie Walker golf monthly mug for August in the men's and ladies' categories respectively. Ekudu posted a 69 nett win while Mpanga managed 68 nett.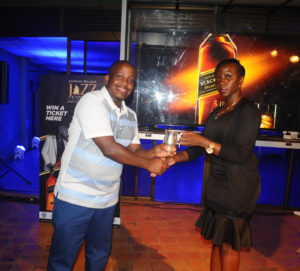 The one-day tourney held last Saturday attracted more than 200 golfers including members of the Uganda Golf Club as well as guest golfers.
Ashavin Kananathan topped Group A with 74 nett, with a stroke better than John Basabose. Other winners in the group stages included Ram Shaban and Herbert Nsanze, with Sam Onek the runner-up in group B and Akura Mugyenyi runner-up in group D.
The September edition of the mug will tee off on September 30, 2017.
Results
Men
Group A
Winner: Ashavin Kananathan – 74 Nett
Runners up: John Basabose – 75 Nett
Group B
Winner: Ram Shaban – 72 Nett (Count back)
Runners up: Sam Oneck – 72 Nett
Group C
Winner: Garvin Onaba – 71 Nett
Runners up: George Egadu – 72 Nett (Count back
Group D
Winner: Herbert Nsanze – 73 Nett
Runners up: Mugyeni Akuba – 77 Nett
Ladies
Group A
Winner: Eva Magala – 70 Nett
Runners up: Bridget Nakamoga – 72 Nett
Group B
Winner: Njeri Kinyoho – 71 Nett
Runners up: Annet Kiconco – 78 Nett
Guests
Winner: Yao Evelen – 63 Nett
1st Runners up: Yuan Wang – 67 Nett
2nd Runners up: Patrick Kaguru – 70 Nett
Other winners
Winner Front Course: Connie Mukuru -33.5
Winner Back Course: Patel Jadel – 33.0
Comments
comments