Outspoken media and current affairs analyst, Tamale Mirundi is a man of unorthodox ways. According to reports, he appeared today at NBS TV with a new hammer tacked in the waist positioned like a pistol.
NBS TV's Muyanga Lutaaya captured the moment on his twitter account, "Tamale Mirundi @nbstv carries a hammer for self protection #NBSTamale .Feared it was a pistol".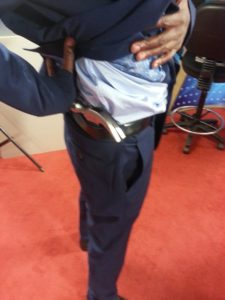 While on the show, Tamale Mirundi supported Brig. Kasirye Gwanga's decision to burn the tractor of the unidentified person who was allegedly clearing his land.
It was perhaps that incident that inspired Tamale Mirundi to pass by a hardware shop and "arm himself" with an affordable weapon.
Comments
comments