We all know the yellow boy aka NRM's slay king, Arua municipality member of parliament, Hon. Ibrahim Abiriga is the number one fan of president Museveni. After rocking yellow outfits inspired by NRM party colour and recently adding President's Museveni's signature hat to his looks, the legislator is not done at mimicking the president.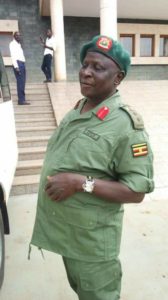 Today at parliament, the legislator who of late has turned a darling to the media, showed up all dressed in UPDF uniform while cutting President's pose whenever he had a chance to stand. He swung his left hand to his belly just like the president does and slightly tilted his head as he spoke in what was seen as depicting the president's natural mannerism.




So, why was he in UPDF uniform. Apparently, he is a colonel. Salute Afande!
Comments
comments