The leader of Kenya's opposition has claimed he was cheated of victory by an overnight hacking attack that he said manipulated the results in the country's presidential election.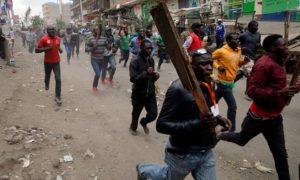 "You can only cheat the people for so long," Raila Odinga said. "The 2017 general election was a fraud."
With ballots from 94% of polling stations counted, results released by Kenya's electoral commission showed the incumbent, Uhuru Kenyatta, leading with 54.4% of the vote, against Odinga's 44.8%, a difference of 1.3 million votes.




Speaking at a news conference in Nairobi, Odinga claimed hackers had broken into election commission computer systems and databases overnight to "create errors". He urged his supporters to remain calm, but added: "I don't control the people."
Odinga's deputy in the National Super Alliance (NASA), Kalonzo Musyoka, also appealed for calm but said the opposition might call for unspecified "action" at a later date.
Shortly afterwards, Kenyan police in the western city of Kisumu fired teargas at a group of 100 opposition supporters who had been chanting "No Raila, no peace". Protests were also held in the poor Nairobi neighbourhood of Mathare, an Odinga stronghold.
In 2007, Odinga's angry rejection of the result in an election marred by irregularities prompted rioting and retaliation by security forces that tipped the country into its worst crisis for decades. About 1,200 people were killed in the ethnic violence that followed.




Comments
comments