The 10th edition of the Jazz and Soul Safari is already in motion, with the event's premium sponsor launching ticket sales today. Uganda Breweries' Head of Whisky Portfolio, Annette Nakiyaga officiated at the launch event today at the House of Walker, Kampala located at Sheraton Kampala Hotel.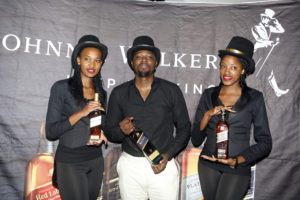 The tickets to this year's Johnnie Walker Jazz & Soul Safari are available at Shs130,000 for Gold seating, and Shs3m for a platinum table of 10. Regarding the ticket offers from Johnnie Walker, Annette Nakiyaga had this to say.




"Johnnie Walker customers now get themselves an instant ticket with every purchase of two bottles of Johnnie Walker Black Label and one Johnnie Walker Gold Label Reserve. You can also purchase any of your favourite Johnnie Walker blends and stand a chance to win yourself a ticket to the highly anticipated musical fest," Ms Nakiyaga said.
The raffle draws will be held every Saturday at Game Lugogo, starting at 3pm.
The Johnnie Walker Jazz & Soul Safari tickets are now available for purchase at House of Walker Kampala, Stanbic Bank (Forest Mall, Stanbic Bank (Acacia Mall), and Liquid Silk (Bugolobi and Naalya branches).
In true celebratory spirit, the event that will take place on Saturday September 2 at the Lugogo Cricket Oval is also amplifying musically, with this year's theme titled "Wear your dancing shoes." The headlining acts for this year's edition are Angolan Yola Semedo, who is regarded as one of the finest exponents of Kizomba and Marcus Anderson, one of the world's most sought-after saxophonists.
The annual jazz event was started by musicians Mayanja and Elijah Kitaka, who had a passion to introduce jazz music to Uganda. Inspired by radio jazz segments and small gatherings, it transformed into nine international standard concerts that showcased the intricate craft that is jazz.




Comments
comments