Nervous Kenyans stockpiled food and water on Monday and police prepared emergency first aid kits as families headed to their ethnic heartlands on the eve of an election many fear could descend into violence.
Opposition leader Raila Odinga, 72, who lost elections in 2007 and 2013, has already said President Uhuru Kenyatta, 55, can only win if his ruling Jubilee party rigs the vote, a stance that increases the chances of a disputed result and unrest.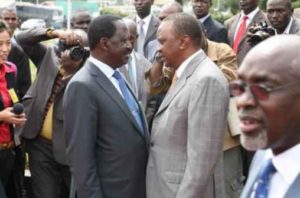 Opinion polls before Tuesday's presidential election put the pair neck-and-neck. A run-off is possible if neither gains a 50-percent-plus-one majority. Kenyans will also vote for members of parliament and local representatives.
In 2007, Odinga's call for street protests after problems with the vote count triggered a widespread campaign of ethnic violence in which 1,200 people were killed and 600,000 displaced.
With the emergence of fake news, the situation has left many very worried about the developments that may follow after announcement of results.
Comments
comments