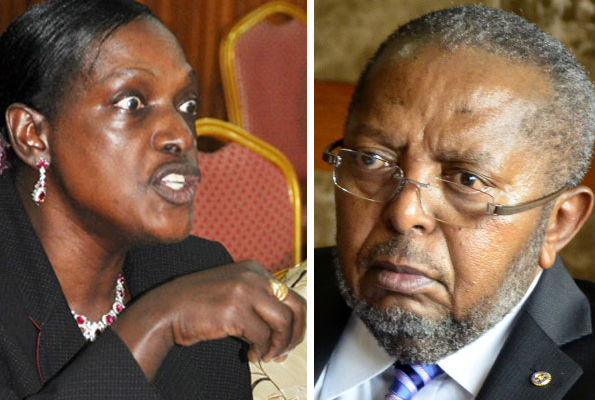 There is an internal fallout among top Bank of Uganda managers over the Crane Bank saga. Matooke Republic understands that a wedge has been drawn between Governor Tumusiime Mutebile and Director of Supervision Justine Bagyenda, following an interview where Mutebile passed the buck on criminal culpability over the lapses in supervision and possible collusion to Bagyenda.
Bank of Uganda recently filed a suit seeking the Commercial Court to compel property magnate Sudhir Ruparelia to pay Shs400 billion (including fines) for allegedly having siphoned money out of the bank.
The case caused mixed reactions with sections of the public arguing that such a thing couldn't have happened under the watchful eye of Bank of Uganda, which kept giving Crane Bank a clean bill of health. Fingers were pointed at top BoU managers for possible collusion.
In fact Mr Derrick Nsereko, a private citizen, through Kashilingi Rugaba and Associates, filed a suit against BoU over collusion, fraud and incompetence over the issue.
Members of Parliament led by Budadiri West's Nandala Mafabi tabled a motion before Parliament to have BoU top brass investigated for incompetence, fraud and collusion over the matter.
Nandala wanted Police and the office of the Inspector General of Government to take interest in the matter and proceed with criminal investigations.
Mutebile passed the buck to Director of Supervision Justine Bagyenda during an interview with a local daily.
"Who was doing the work of supervision? Okay it was Bank of Uganda staff but not the entire BoU. BoU has an executive director in charge of supervision," Mutebile said.
Asked whether he was passing the blame to his junior, Mutebile said, "I am responsible for what went wrong but I am not criminally culpable."
Then he was asked who was criminally culpable.
"Ask the executive director for Supervision [Justine Bagyenda]," he said.
Nandala Mafabi's motion in Parliament had set the stage for grilling the BoU officials in the August house, but Deputy Speaker of Parliament Jacob Oulanyah came to the rescue on Monday, stopping the probe, citing the sub judice rule that limits debate of matters before courts of law.
Background
It should be recalled that Crane Bank was closed in October last year following undercapitalisation which the bank's proprietors blamed on non-performing loans. The bank was taken over by DFCU Bank in January this year.
A forensic audit was carried out by audit firm PricewaterhouseCoopers (PwC) and Bank of Uganda used its findings as basis to file the Shs400 billion suit against Sudhir and his Meera Investments.
That set the stage for one of the biggest legal battles in the country with BoU employing the services of MMAKs Advocates led by Timothy Kanyerezi Masembe (a former Crane Bank lawyer) and AF Mpanga Advocates while Sudhir hired Kampala Associated Advocates.
Sudhir's lawyers have since asked BoU's lawyers to furnish them with a set of 26 documents they are basing their suit on, in order to file a solid defense, but BoU's lawyers have since released only one document.
"Preliminary Forensic Audit Report"
Also, the forensic audit report BoU is basing on has since leaked to the public, revealing that it is preliminary and not conclusive.
"Our work was limited to the specific procedures and analysis described herein and was based only on the information made available through 20 December 2016. Accordingly, changes in circumstances after this date could affect the findings outlined in this report," Francis Kamulegeya, PwC Uganda's head signed off in the opening remarks of the letter written to BoU Supervision Director Bagyenda.
"The procedures we performed did not constitute an examination or a review in accordance with generally accepted auditing standards or attestation standards. Accordingly, we provide no opinion, attestation or other form of assurance with respect to our work or the information upon which our work is based. We did not audit or otherwise verify the information supplied to us in connection with this engagement, from whatever source, except as may be specified in this report," Kamulegeya said.
In essence, PwC was not accepting responsibility for any misinformation that could have been based on compile the report. The audit firm in fact recommends further investigative work.
Bagyenda was not readily available to comment and BoU Communications Director Christine Alupo previously stated to Matooke Republic that she is not at liberty to comment on matters before courts of law.
Comments
comments