MTN Uganda has bounced back to local football after unveling a three year partnership deal worth Shs1.290b with KCCA FC. The telecom company will be paying Shs430m annually to the club.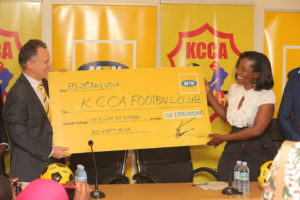 "MTN is an avid supporter of sports in Uganda. It is well documented that as a leading brand, we have championed and continue to support various sporting initiatives in this country and as a Group in our operating units across the continent and overseas. We view sports as a national unifying factor evidenced in the shared passion for the game, the zeal, the edginess, the frustration at missed goals and opportunities and the resultant celebration of goals scored by both the fans and players alike. As MTN we identify strongly with the highs and lows of the game," said MTN Uganda CEO Wim Vanhelleputte,




On record, double local champions KCCA FC boasts of four sponsors. In January this year, the club announced a four-year extension deal with Pay TV Company Startimes worth Shs3.2bn a year which included renaming of Phillip Omondi Stadium to Startimes Stadium. The other addition sponsors are Prime Media and Britam Insurance.
Comments
comments