South Africa-based Ghanaian pastor has thrown South Africans into a state of shock after a short video of one of his church sessions was televised on a local TV station.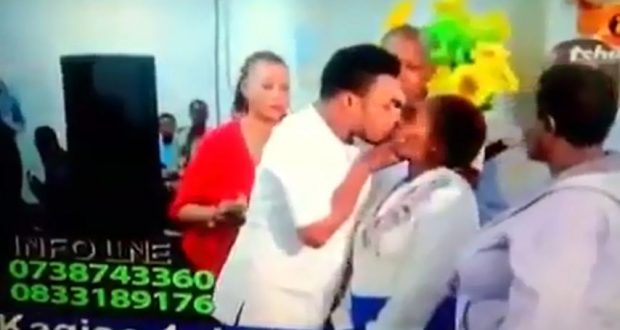 The pastor, who is said to be based at Rustenburg in the North West Province of South Africa is seen in the video, kissing a female congregant to during what appears to be a healing session. In the video, two women are seen on stage together with two men who are presumed to be junior pastors or ushers of the church.
"By the power of the Holy Spirit, God is working here," the pastor says, as another man behind him responds, "Yes, Lord!"
The pastor then turns to the young light-skinned woman and holds her chin. He drew her closer to himself before blowing air in her face and subsequently locking his lips with hers. As those behind him look on, one of the men is heard saying, "Jesus, thank you, Jesus, yes Lord!" The development adds to the tall list of some of the most absurd happenings in some churches.
CHECK THE VIDEO BELOW:
Comments
comments