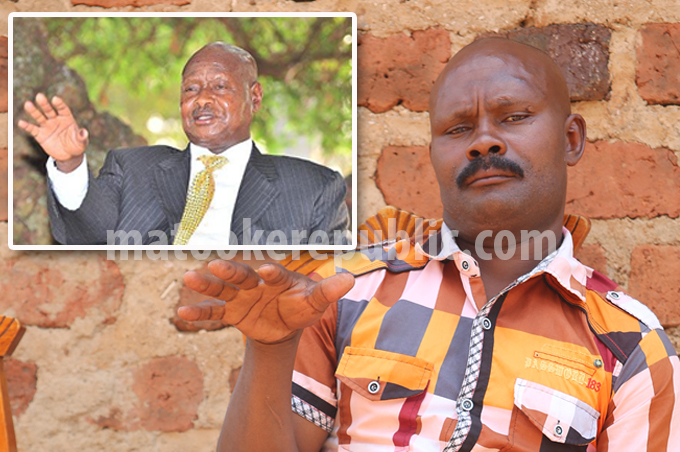 On Tuesday this week, Benon Karebere, a 40- year-old-man came out claiming that he is the president's son. Hosted on Radio Simba, he poured out his frustrations, stating that he is tired of wallowing in abject poverty and wants to "go home". By home he meant State House of course, and when we traced him for an interview, it was immediately understandable why Benon would be in a hurry to swap surroundings; from a Bulenga house barely sufficient for two people to his "father"'s posh abode in Entebbe.
When we reached the taxi stage, the overly-cautious Benon had sent his spies to inform him who the people were. He later revealed to us he wanted to be sure of who he was going to meet. He said he would have fled if his spies had sensed that we were armed. "My daddy's enemies might harm me!" he told us.
To set the ball rolling, we asked him why he was claiming he was the president's son.
"I am not claiming! I am the president's son," came Benon's sharp retort. "How can I go about claiming to be somebody's son? He is my daddy and I am his son", he stated. It was immediately obvious to us that nothing ticks him off as much as anyone suggesting he is "claiming" to be the president's son.
In truth, there is nothing special about Benon on first impression. Dressed in a checked shirt, jeans and black slippers, he could pass for any other middle-aged man. He is of medium height and average build. It is, however, his bald head, thick moustache, fair complexion and hand gestures that are eerily similar to those of the president. We would soon find out that he has a wicked sense of humour too. And that he carries with him, and proudly displays, a national ID registration form with the section reserved for father name filled in as: Kaguta Yoweri Museveni. Occupation: President. Residence: Entebbe.
As he led us to his abode, we could not help but ponder the resemblance. Taking us away from the main road to a red brick house, we ended up at a room that he claimed he shares with a friend. He told us he had sent his two daughters and wife back to the village after he failed to make ends meet when he ran out of business as a bicycle repairer as everyone had switched to boda boda.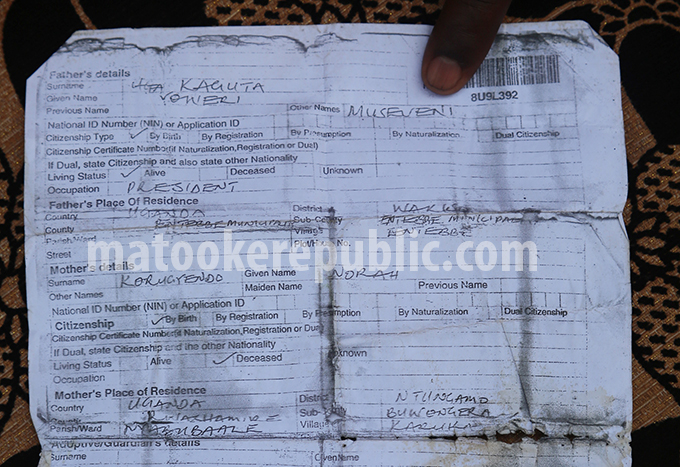 Life story
"I was born in January 1977 in Ntungamo when daddy was involved in battles in Tanzania. My mother was a married woman when she met daddy. When I was born, my appearance was far different from the other two children so my stepfather chased my mother out," he said.
"She carried me along and we sought refuge at my maternal grandfather's place. My grandfather did not take me to school. He was a herdsman so as I grew up, he introduced to the kraal and I started help with grazing. He had a son called Mugume who offered to teach me hands-on skills at fee. I sold poles and my goats to get the fees to learn from his workshop. They used to call me "Kadogo". I started learning at 13 years and was chased away after a spanner got lost," Benon explained how he came to possibly be the only 'president's son' in the world that is illiterate.
Turning point
"In 2000, my mother was very ill. She had been very sick for two years and had no help. So one day I was found her struggling on the bed and asked to help her because she was struggling for her life." It was at that point that he said he felt compelled to ask about the whereabouts of his father.
"I asked her, "Nyabo, I want to know my father. The two kids know their father but who is my father?" She broke down and confessed that I was the son of the president! I had been hearing rumours that I had a different father. Also when they were addressing issues and needs of the other children, I was excluded. She revealed to me that the soldiers were very mobile and she had had a relationship with daddy. I was really not excited because I am a 'villager'". His mother later passed away but for Benon, it was only the beginning of his quest to meet his "father".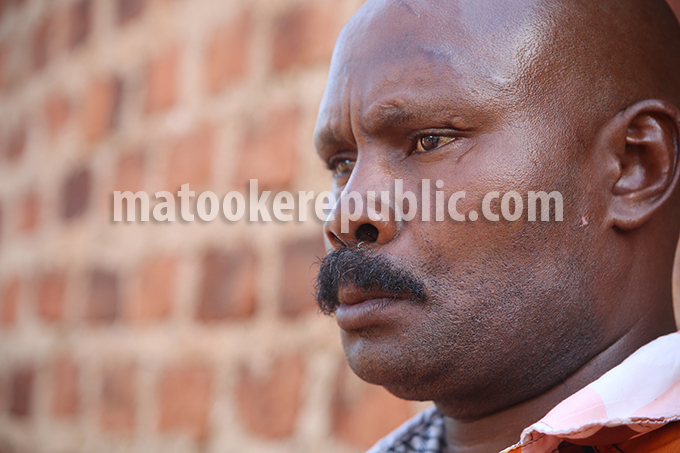 The quest to meet 'daddy"
According to Benon, this wasn't easy for him because "My daddy is a distinguished man of honour so there was no way I could simply walk to him and tell him my problems". Instead, he said, he started writing letters to 'Uncle Saleh" (President Museveni's brother Salim Saleh), Maj. Jacob Asiimwe, Maj. Gen. Nalweyiso. "I wrote the letters in Runyakole. I included a photo of me, my mother and daddy in the letters. Soldiers came to my place and questioned me but realised I was not a "muyaye".
"They were struck by my resemblance. In my letters, I was asking for help." Queried on whether he had tried to get a DNA test done, he claimed his "blood" was taken by people in the president's circle, but he was never given the results.
Benon claimed in the interview that 'Uncle Saleh' gave him Shs5m. "I then told him instead of money, I need two acres of land so that I can get started. Last year, he gave Shs300, 000". He never gave up trying to get help from the president, but his attempts often met with resistance, even though, as he claimed, some members of President Museveni's security detail were sympathetic. "They revealed to me that they would have helped me but they fear. One soldier who I will not mention had promised to give me a good house but he was advised by his friends not to interfere with 'matters of the Basita' (president's clan)", Benon said.
"I have been chased by some people at State House, Entebbe, claiming that I wanted free things. So I went to Garuga to Uncle Saleh but his guards kept me out. I slept outside the gate. I asked them to kill me instead because I am tired of suffering."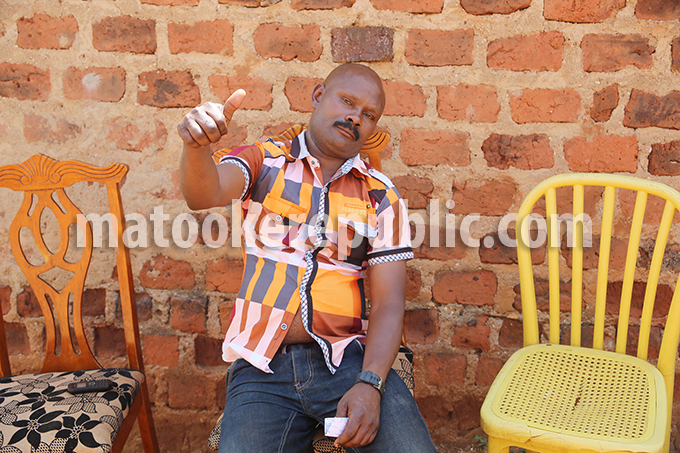 Daddy, show me love
Asked what kind of help he would want his 'dad' to provide, Benon began to narrate how he took long to get married because he didn't have a definite home, and how he got married at 35, but that most importantly, he wanted some fatherly love. "All I want from daddy is to show me love just any other child of his. I wrote letters because I wanted it to be a secret so that he would call me. I am very sorry for coming out in the media but I am tired of suffering. I have tried to get to you for so long. Even the shoes I have are torn. I bought them with the money 'Uncle Saleh' gave me. I am very frustrated right now. Please don't forget me. I want two acres of land. If you don't want to help me as your child, rescue me as a refugee. I want to go home. Daddy please."
Comments
comments