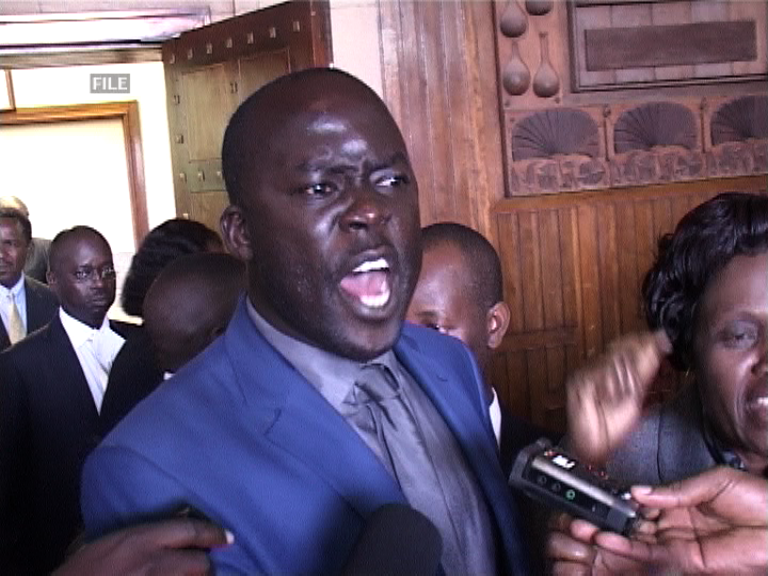 It was chaotic today at court when wife to opposition figure Winnie Byanyima arrived at bail case hearing. Flanked by wailing relatives of the deceased Akena Kenneth dressed in black tee shirts, the MP attacked Winnie Byanyima for "supporting a murderer".



In a recorded video from the scene, the fiery Aruu county MP was restrained by some people as she shot questions at Winnie Byanyima before he broke down.
He expressed utter disappointment in Byanyima and also threatened to exhume the late's body and take it to Besigye's home. He repeatedly expressed regret for supporting Kiiza Besigye.
"…..How can Kiiza Besiye allow his wife to support a murderer? "….Besigye… Besigye.. Besigye…the political line is drawn in Northern ……for your wife to be the one you send to stand surety against the death of our brother…..next time you want to campaign in Northern Uganda, come in an armoured car….."
Aruu county MP Odongo Otto who was at the centre of stirring tribal remarks following the death of Akena Kenneth then broke down in tears as Winnie Byanyima, Moses Karuhanga, Edith Byanyima and Julius Kanyamunyu, all relatives of the accused standing as sureties made their way to the case hearing.
The accused is nephew to Winnie Byanyima.
The bail case ruling will be made at 5pm.




Comments
comments