The men have God have delivered their message for the new year 2017. Pope Francis called upon the world to give the youth more opportunities while pastors prophesied that this year will usher in a period of growth, blessings, and achievement.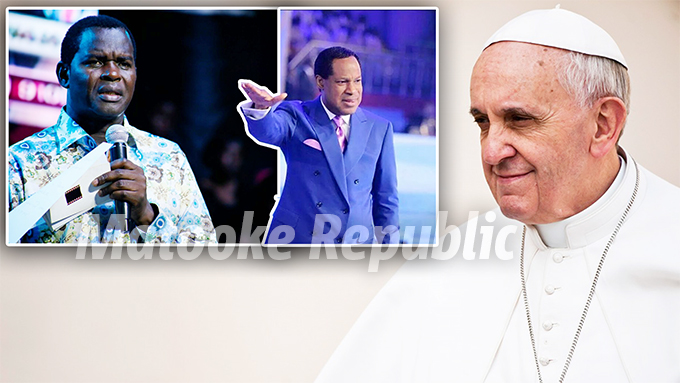 Pope Francis
Francis said that young people have been "slowly pushed … to the margins of public life, forcing them to migrate or to beg for jobs that no longer exist or fail to promise them a future."The pontiff said the world owed young people "a debt" as they've been deprived of "dignified and genuine work." Instead of promoting genuine, dignified work allowing youth to actively participate in society, society has demanded that they be "a leaven for the future," he said.
Pastor Robert Kayanja, Rubaga Miracle Cathedral
"I want to wish every believer a Happy New year, but i also command you under the authority given to me by my Father (God) to let you know that this is going to be your year of greatness.- Pastor Robert Kayanja"
Umar Mulinde
To all my dear friends, I wish you a Happy, prosperous, blessed great year of victory, raising standards and enlarging territories!
Expeditor msgr. Magembe
A year of double promotion, double blessings, a year of double double
Garry Skinner, Watoto church
Our God is a God of new beginnings. 2017 will a year of new beginnings in every situation you face. If things were not pleasant in 2016, this new year God is doing something new. If you achieved somethings in 2016, God is giving you new victories this year.
Pastor Wilson Bugembe
I pray for 365days, without any bad day. It's possible when we believe.
There is a saying that the older the wine the sweeter. I wonder how long it takes for the best wine to be made, May be 30years or more, Jesus simply turned water into wine. For me this implies SPEED, I pray for Speed, what would have taken many years, I pray for SPEED over your dreams.
I pray for a new spirit and a new heart. Old bad habits and sinful living, I pray that the blood of Jesus will wash you clean.Welcome to the best year of your life. Water into wine 2017.
Pastor Chris Oyakhilome, Christ Embassy, Nigeria
Pastor Chris Oyakhilome has declared 2017 as the year of flourishing. The general overseer of Christ Embassy Church made this known at the global new year's eve service.
According to the man of God, "the message of the year is more than a topic. It is an insight into what the Lord will do for us, in us and through us – it is God's direction for us. Times and seasons don't apply in heaven but in the earthHe pointed out this year 2017 to be a year of flourishing for all, he compared the flourishing to that of a palm tree which flourishes and grows irrespective of whatever season it is, postulating that the flourishing is in the palm tree and not in its environment.
"The righteous shall flourish like the palm tree: he shall grow like a cedar in Lebanon. 92:13. Those that be planted in the house of the LORD shall flourish in the courts of our God. 92:14 They shall still bring forth fruit in old age; they shall be fat and flourishing…" (Psalms 92:1-15)"
Below are the three key notes he highlighted:
Luxuriant Growth.
"Notice the verse above it says, they shall flourish like the palm tree. The palm tree flourishes irrespective of seasons. Its leaves are evergreen. And some grow very tall. One of the features of flourishing is spreading. Which means the spreading continues"
Significant Attainment
"Attainment of higher heights. God wants to do marvelous things through us. Not just attainment but significant attainment (news making attainment)"
Persistent Productivity
"The weather, economy, country and physical circumstances do not count. _"So mightily grew the word of God and prevailed."
According to the Man of God, 2017 is going to see God's children come out nourished even in the midst of seemingly difficult times.
HAPPY NEW YEAR!
Comments
comments