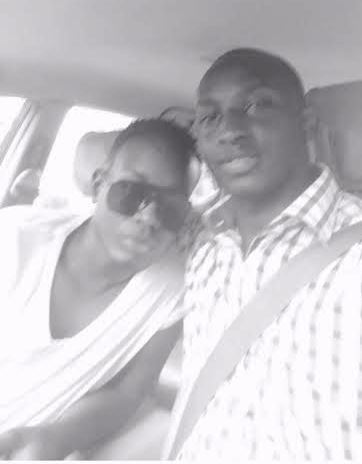 A gay couple; Nelson Indoha and his partner




Uganda is one of the most difficult countries in the world to be gay. The gay community in Uganda remains very much underground. Homophobia has been widespread since the prohibition of homosexuality in the 1950s.
But it wasn't until February last year that president Yoweri Museveni signed a law that not only outlawed homosexual acts, but also compelled citizens to report homosexual activity to the police, triggering increased levels of prejudice, violence, and discrimination against the gay community.
Having been at the helm since 1986, Museveni faced serious competition both within and outside his party as the country headed for polls, not to mention a restless population afflicted by a high cost of living, unemployment and a general disgust with rampant corruption. By the stroke of a pen, Museveni succumbed to populist pressures and condemned an otherwise law-abiding sexual minority to maximum sentences of life imprisonment.
He won the election with 60.62% while the only presidential candidate who openly spoke against discrimination of gays, former Prime Minister Amama Mbabazi only managed a paltry 1.3%.
The Uganda Anti-Homosexuality Act, 2014 (previously called the 'Kill the Gays bill;' in the western mainstream media due to death penalty clauses proposed in the original version) was passed by the Parliament of Uganda on 20 December 2013 with life in prison substituted for the death penalty. In August 2014, just a few months later, the legislation was annulled: the law was passed without the requisite quorum, meaning that not enough MPs were present at the vote.
The judgment was received by activists with cheers of joy, even though the verdict was based on technical grounds, rather than moral or ethical concerns after Western powers threatened to cut donor aid.
As a result of state views towards homosexuals, it is unsurprising that there are reports of police arresting, detaining, and torturing gay rights activists. Violence against homosexuals in Uganda has also been increasing in recent years. There are reports of gay men being attacked and hospitalized, lesbian women being beaten, and gay individuals and activists being murdered.




In 2011, one of Uganda's most prominent gay rights activists, David Kato was murdered in his home weeks in after winning a court victory over a tabloid that called for homosexuals to be killed. The advocacy officer for Sexual Minorities Uganda was bludgeoned to death. Witnesses saw a man fleeing the scene in a car, and those responsible have never been arrested or prosecuted.
Along with other Ugandan gay activists, Kato had reported increased harassment when a high court judge granted a permanent injunction against the now defunct Rolling Stone tabloid newspaper, preventing it from identifying homosexuals in its pages. Kato had been pictured on the front page of an issue carrying the headline "Hang Them." He was one of the three complainants in the court case.
Gays fled the country, lost their homes, lost jobs and were evicted from their rented house.
Nelson Indoha, a Ugandan gay lost it all after a tabloid outed him in a tabloid newspaper. He had gone to Club Liquid Silk, a popular city night club, when some people who suspected they were gay turned violent and beat them up. He rushed to police to file a case of assault but the table turned against him when the attackers defended themselves that they beat him because he was gay. The police unlawfully detained and tortured him for five days without any charges.
The news of the fight went viral. His boss sacked claiming he would bring a stale reputation to the company because he is gay. He was evicted and worst of all his family disowned him, beat him up and threatened to kill him for tarnishing their image.
Culturally, Nelson Indoha is considered an outcast because of his sexual orientation since homosexuality has always been a taboo subject in Uganda, and is considered by many to be an affront both to local culture and religion, which plays a strong role in family life. A man is expected to marry a woman or women. One who has not married is considered a boy or girl regardless of their contribution to society, wealth and political position. Children are considered a blessing and parents demand their sons and daughters to bless them with grandchildren before they pass on.
That's one of the reasons; homosexuality is considered a curse that ought to be cleansed either by killing the gay or disowning them. A woman is expected to look after the home, the husband and most importantly produce children. There have been countless cases whereby women who delay to conceive are accused by the in-laws of "getting married to eat and fill the toilets". The families' usually advise the man to marry another capable of giving them a child. In certain cases, the women who delay or fail to conceive are chased, insulted and beaten by parents or relatives of the husband. It is worse for gays.
Also, traditional, marriage comes with bride price. The family of groom takes wealth in form of money, cows, goats and lately cars, land titles to the bride's family as an appreciation. It is a mandatory requirement negotiated between the two families before the couples are joined together as husband and wife.
Due to ignorance about homosexuality, many Ugandans perceive gays as mentally handicapped people who need medical attention, counseling and reformation. The then minister of Ethics and integrity Dr. James Nsaba Buturo on several occasions stated that gays were worse than
animals. "We used to say Mr and Mrs, but now it is Mr and Mr. What is that now? We are talking about anal sex. Not even animals do that," Butoro stated.
Many Ugandans perceive homosexuality as a practice of anal sex, something despicable in most cultures. Ironically, it is a public secret many married straight couples and men who sleep with prostitutes engage in the act. However, if one is gay, anal sex is mentioned in the most condescending manner. It is against this background that gay man like Nelson Ndohola was disowned by the family and beaten up.
These superstitious beliefs have further been propagated by religious beliefs. Uganda is religiously diverse nation with Christianity and Islam being the most widely professed religions.
According to the 2014 national census, over 84 percent of the population was Christian while about 14 percent of the population adhered to Islam. Both lines of faith teach believers that homosexuality is a detestable sin. "Do not have sexual relations with a man as one does with a woman, that is detestable'', Levictus 18:22 and several other verses are quoted when homosexuality debate comes up.
Religious education is part of the curriculum both formally in schools from kindergarten to 'A-level' is high school and informally in Sunday school. This indoctrination of young minds has created a hostile ground for violence against homos despite Bible commands against murder. Despite all these efforts, gays are in the community. In August 2015, Ntare School, the Ugandan school that has produced two current presidents; Uganda's President Museveni and Rwanda's Kagame Paul was closed over homosexual incidents. The closure followed students who wanted to lynch two others that they were suspected of homosexuality.
"It was very disgusting. So we wanted to deal with them within our capacity. But the School tried to stop us. And we wanted to finish off all the suspected gays, we are tired of them," said a student who spoke on anonymity. However, the students had been advised by the headmaster not to mention anything about the act to the press. This was in order to protect the reputation of the school.
Mob justice is widely spread in Uganda. Motorists, family members and gangs usually beat up and insult suspected homosexuals. There have been reported cases of rape of lesbians. After raping, they boost of initiating them into "proper womanhood". In such cases, like it's the norm, it is safer to suffer in silence. Uganda is not alone. At least 38 African countries already proscribe consensual same-sex behavior.




Comments
comments