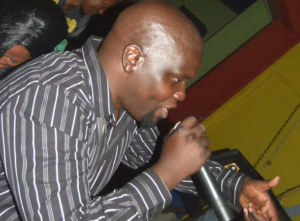 It is that time of the year when Sanyu FM throws its listeners the ultimate end of year bash! It is no different this year. This year's edition dubbed the "End of Year Listeners' Masquerade Party is to take place on Thursday 1st December at Cayenne Restaurant and Lounge in Bukoto. Yes, its only a few hours from now.



In line with the Masquerade theme, the listeners are expected to come donning masks to the party. In true Sanyu FM fashion, all drinks and food will be on the house at this "invite-only" event. To win invites, the listeners call in to answer a music-related question.The presenter plays a snippet of a song, and then the listeners have to identify the song and the artiste to bag the invites. So, if you have not yet won yourself one, well tune in now.
At the party, besides the free-flowing food and drinks, the party goers will be treated to live performances from some of their favorite local artistes. They will also freely mingle with their favorite Sanyu FM presenters including Fatboy, Nina Crystal, David, Keith, Stefan and Jo.Sanyu FM's DJ Cacie and a host of other DJs will also be at hand to wow the crowd with mad mixes.




Comments
comments