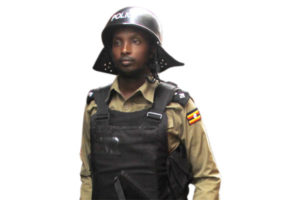 Aaron Baguma the police officer who has been wanted over his role in the murder of businesswoman Donah Katushabe has handed himself over to Buganda Road Court, where he was remanded to Kigo Prison.
Baguma was the DPC, Central Police station when Katushabe was beaten to death at Pine car bond, a stone's throw away from CPS and it is alleged that he looked on as she was tortured by the bond's owner Mohammed Ssebuwufu and his bouncers and did nothing to save her despite her pleas for help.




Katushabe was beaten to death over a Shs9m debt for a car that she had failed to meet.
Ssebuwufu and three others were charged with murder over the incident in 2015 and human rights activists and the late Katushabe's relatives called for the arrest and charging of Baguma saying he is equally culpable.
Baguma was recently transferred from CPS and sent for a refresher course and was off the radar despite court summons, until he presented himself this morning.




Comments
comments