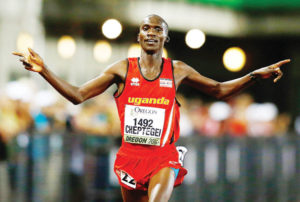 After losing in the 10,000m Olympics race, 20-year-old Joshua Cheptegei  has bounced back to qualify for the 5000 meter finals. He put up a great performance finishing fourth; just behind defending champion Mo Farah.
He posted a time of 13:25.70 minutes, improving his previous personal best time of 13:28.50 meters.




Jacob Kiplimo first looked fresh, energetic and enthusiastic till the last lap where almost all the runners bypassed him as he steadily continued to lose momentum, proving he is still a 15-year-old novice.
Kiplimo has been ranked 26 in 13:30.40 minutes.
Another Long distance runner Phillip Kipyeko, 21, has also tried his best but luck was not on his side. He has been ranked 12 in 13:24.66. The list of Ugandans out of medal contention is now 14.




Comments
comments